undefined
Life Behind Bars
The Bar and Restaurant Experts
Over 80 pages of Alcohol Negligence and Liability Resources including; The Bar Experts Alcohol Management & Responsibility Manual and Workbook, Industry Facts and Business Insights. Also included Editable .docx versions of our Award Winning Bartender Training Manual and our Operations and Management Guide.

View details
LIFE BEHIND BARS
By Ryan Dahlstrom and Preston Rideout
Ryan Dahlstrom
President - The Bar Experts
Ryan Dahlstrom is a Certified, Award-Winning Consultant with over 25 years of Operations and Management Experience within the Hospitality and Entertainment industry.

Owning, Operating, Managing & Consulting Nightclubs, Bars, Restaurants, Gentlemen's Clubs and Entertainment Venues, in over 25 cities spanning across 4 different countries.

While combining over two decades of international expertise within the Hospitality and Entertainment Industry, with state of the art Marketing & Development techniques. Ryan Dahlstrom is fluent in using his knowledge & resources and adapting them to the different tasks & trades needed.

Ryan Dahlstrom is the Author of The Bar Starts Here, that has landed him on 3 different Best Selling Author lists.

The National Restaurant Association estimated that food and drink sales in U.S. bars and taverns would reach 19.9 billion U.S. dollars in 2016. This is a relatively small figure in comparison to the wider restaurant industry, for which food and drink sales were expected to rise to approximately 783 billion U.S. dollars during the same year.

More than 195 million U.S. consumers visited a sit-down restaurant in the spring of 2016.

In 2016, there were a reported 63,305 Bars, Taverns and Nightclubs in the U.S.

So why aren't there 10's of thousands of multi millionaire Bar, Restaurant and Nightclub owners out there?

Recognized as of the industries leading consulting firms for Bars, Restaurants, Nightclubs and Hotels across the globe, we have found that the majority of our clients are having a lot of the same issues.

We understand that every company and every situation is different and there are no one size fits all answers. However if you can't answer these following 5 questions without hesitation and 100% accuracy, purchasing Life Behind Bars is going to prove to be one the best decisions you have ever made in your career.

• What are your true direct and indirect operating costs?
• How much money are you actually making?
• Where exactly is all of your revenue going?
• Can your team operate your business without you?
• How much potential revenue are you leaving on the table?

Within these 5 chapters of Life Behind Bars, we are not only going to walk you though how The Bar and Restaurant Experts, conquer these real life restaurant and bar problems. We are also providing you with access to over 500 pages of the industries most actionable and customizable tools, manuals and guides, that until now have only been available to major chains, franchises and a few of the most elite professionals in our industry.

HURRY UP! AND PRE ORDER ALL 3 VOLUMES FOR HUGE DISCOUNTS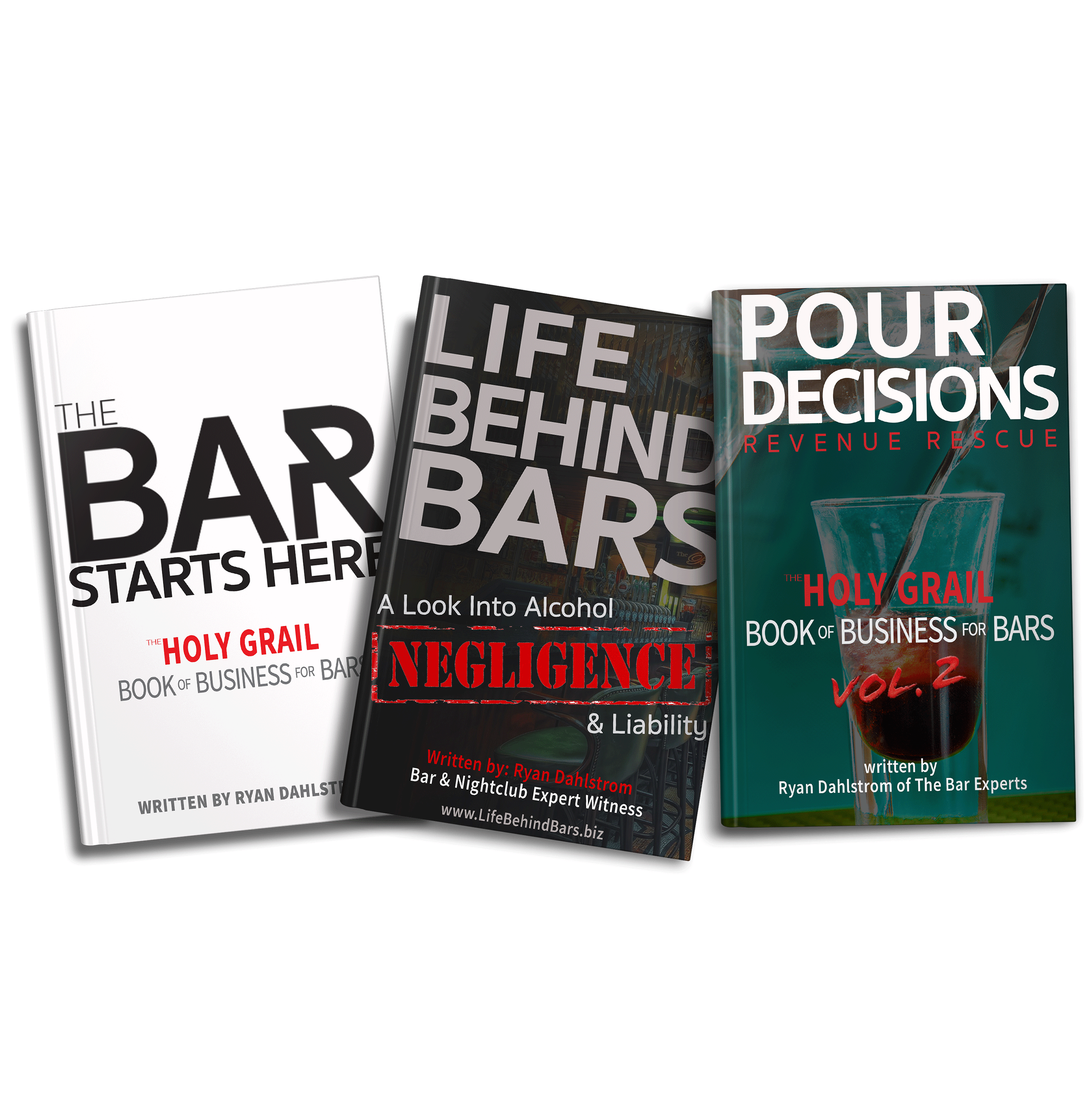 The Holy Grail Book of Business Volume 1-3
The Bar and Restaurant Experts
Unlock over 1,500 pages of amazing tools and insights that have long been kept secret by the top professionals of our industry. Lower your monthly operating costs by up to 160% and more. Don't Be Left Behind. Your Competition Is Already Placing Their Order.
View details